For clients who invest over $1 million with Motley Fool Wealth Management, we're pleased to offer complimentary, full-service financial planning with a dedicated Wealth Advisor who understands your situation inside and out.
Your financial situation is unique to you. You've got your own plans, your own ambitions, your own bucket list items. By partnering with a trusted financial planner, you can take a comprehensive approach to your financial future and hopefully ensure that all of your money moves are aligned with your specific goals.
It's Personal… with a Retirement Plan That's Especially Tailored to You
Our goal is to develop a customized financial plan that we believe gives you better potential to achieve your specific financial goals.
Our Wealth Advisors don't believe in boilerplate plans or one-size-fits-all advice. Our process is entirely centered on YOU – your circumstances, your risk threshold, your goals, and yes, your dreams!
We believe that a sound financial plan is rooted in conversations between you and your Wealth Advisor who can:
Learn the ins and outs of your financial situation by asking the right questions
Understand your cash flow and income needs throughout different stages of life – working and earning, nearing retirement, in retirement, etc.
Recommend general tax-optimized strategies for your various retirement accounts
Help you understand and assess unanticipated changes that come along the way, such as changes your employer makes in your 401(k) plan options, a new rental property income stream that could impact your tax situation, or determining whether or not to exercise stock options this vesting cycle vs. the next one
Position your investments to achieve the appropriate risk-reward profile for your situation
Answer your questions and offer you objective, honest, professional advice
With personalized advice that takes into account your complete financial picture, you can feel confident that you're taking a comprehensive approach when it comes to your retirement.
How we can help
Earning, saving, and investing are all crucial elements of your financial journey. And everyone's journey is a little different. Especially as your wealth grows, your financial picture can often become significantly more complex. Whether it's purchasing a second home, potentially minimizing your tax burden, or managing your estate and legacy plans, there are usually several moving parts to any financial picture.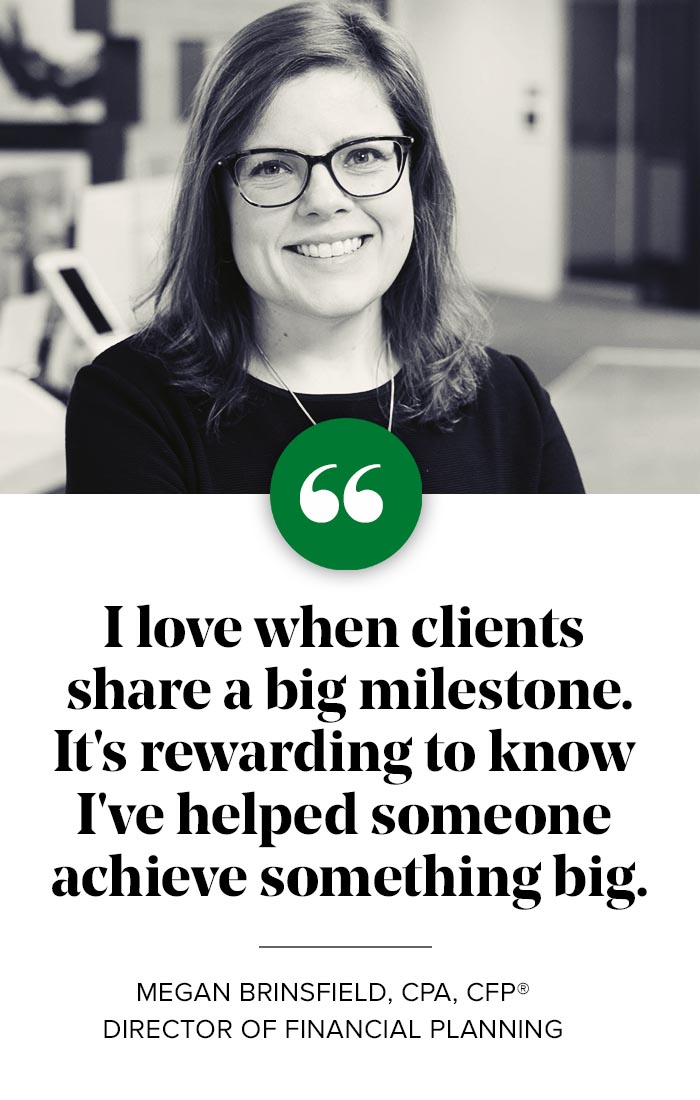 What kinds of money decisions do you need help with? Our specialties include:
Asset allocation
Retirement readiness
General tax strategy
Investment positioning
Cash flow mapping for retirees
Insurance planning
Income strategy
Estate and legacy consultation
Education funding
We want to help you build a smarter, happier, and hopefully richer life – a life of doing what you love most with the people who are most important to you!
We've personally helped hundreds of clients and their families navigate their financial journey by managing the important details for them.
Discover how a Wealth Advisor can tailor a financial plan to your goals. Start by scheduling a complimentary, no-obligation wealth consultation by clicking the button below.